Marissa Ann Mayer (pronounced born May 30, 1975) is an American business executive. As of 2013 she is the president and CEO of Yahoo!. Previously, she was a long-time executive and key spokesperson for Google. She is the youngest CEO of a Fortune 500 company, and has been ranked number 14 on the list of America's most powerful businesswomen of 2012 by Fortune magazine.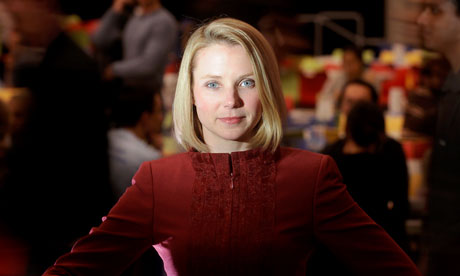 Mayer was born in Wausau, Wisconsin, the daughter of Margaret Mayer, an art teacher of Finnish descent, and Michael Mayer, an engineer. After graduating from Wausau West High School in 1993, Mayer was selected by Wisconsin governor Tommy Thompson as one of the state's two delegates to attend the National Youth Science Camp in West Virginia.[.
Mayer graduated with honors from Stanford University with a B.S. in symbolic systems and an M.S. in computer science. For both degrees, she specialized in artificial intelligence. In 2009, the Illinois Institute of Technology granted Mayer an honoris causa doctorate degree in recognition of her work in the field of search.
Mayer joined Google in 1999 as employee number 20 and was the company's first female engineer.
During her 13 years with the company, she was an engineer, designer, product manager and executive. Mayer held key roles in Google Search, Google Images, Google News, Google Maps, Google Books, Google Product Search, Google Toolbar, iGoogle and Gmail. She also oversaw the layout of Google's famous, unadorned search homepage.
In her final years with Google, she was Vice President of Local, Maps, and Location Services and, before that, Vice President of Search Products and User Experience.
The video of Mayer's 2011 interview of Lady Gaga as part of the Musicians@Google series has received over two million views on YouTube.
Prior to joining Google, Mayer worked at the UBS research lab (Ubilab) in Zurich, Switzerland, and SRI International in Menlo Park, California.
On July 16, 2012, Mayer was appointed President and CEO of Yahoo!, effective the following day. She is also a member of the company's board of directors.
In February 2013, Mayer oversaw a major personnel policy change at Yahoo!: that all remote-working employees must convert to in-office roles, or leave the company.